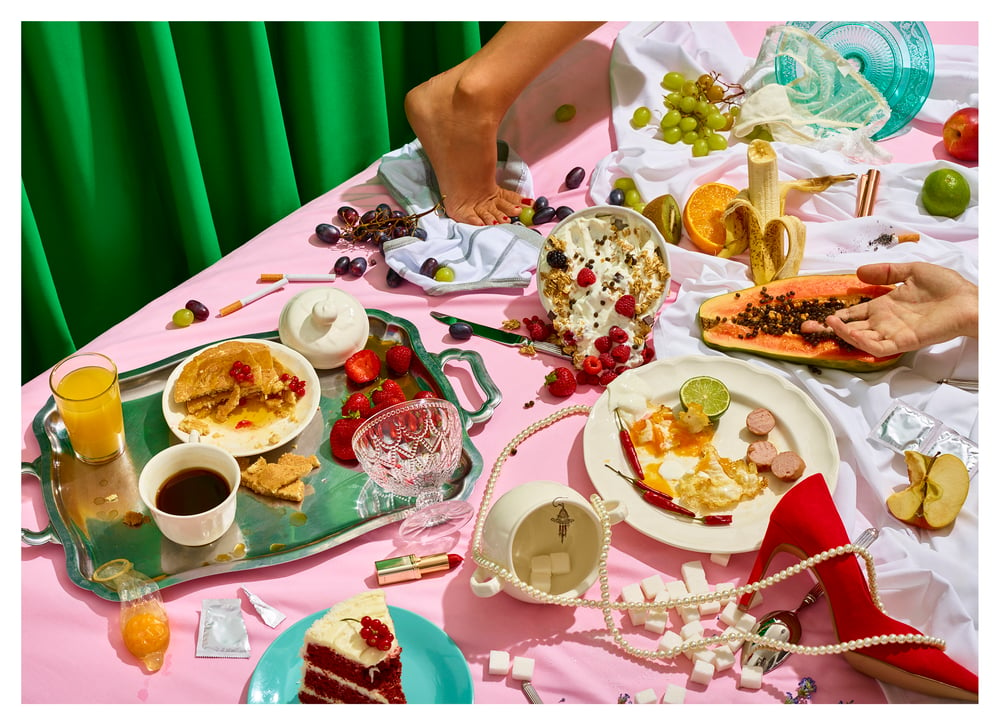 This collaborative project together with Pablo Alfieri is a playful and enthusiastic way to portray early morning sex.
Away from the classic erotic language, we wanted to depict two different subjects that modern social conventions discourage us from experimenting with. Since we were children we were told not to play with our food, and definitely not even talk about sex. So we challenged ourselves to explore these topics in an innocent and direct way – an ode to pleasure, enjoyment and freedom.
Limited Edition Prints:
Small Edition- 15.75 in x 19.68 in (40 cm x 50 cm) Limited Edition of 75+ 2 PA
Medium Edition- 27.56 in x 19.68 in (70 cm x 50 cm) Limited Edition of 50 + 2 PA
Large Edition- 35.8 in x 24 in (91 cm x 61 cm) Limited Edition of 25 + 2 PA
The Limited Edition prints are signed, accredited and numbered by the artist and include a Certificate of Authenticity.
Open Edition Prints:
11.81 in x 7.87 in (30 cm x 20 cm)
Free standard shipping*
Each Print is created with care using archival paper and superior certified 100+ years inks.
Fine-Art Giclée Print over 100% a-Cellulose, bright white, Hahnemühle Fineart Pearl 285 grs.
This artwork is sold unframed with a 3 cm white border in the medium or large edition / 2 cm small edition / 1 cm open edition.
*Use the code OPENEDITION for FREE shipping. Just applies to the 23 cm x 23 cm Open Edition when you check out. Standard shipping / regular post shipping. Please contact for priority / express shipping.